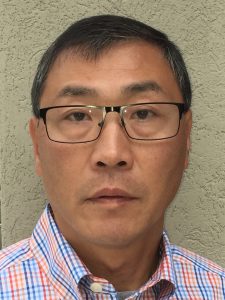 Mr. Danny Chu immigrated to the United States when he was 14 years old. Mr. Chu lived in Northern Virginia until he retired at Ponte Vedra Beach, FL in 2016. He is a graduate of Virginia Military Institute (VMI) with a BS in Physics. Mr. Chu has over 25 years experience in Information Technology (IT) industry and held various positions. He founded multiple IT companies over his career.
Professional Activities:
•Co-inventor for "Biometric personnel identification system" (U.S. patent number 6018739)
•Member of the GSA Common Access ID standard committee to draft the data exchange for biometrics for the use of the smart card technology in the United States government.
•Guest panelist on "HIPPA" on how biometrics technologies can be applied to healthcare security for patients' records and computer systems.
•Lectures on biometrics technology and small business at Virginia Military Institute in Virginia
•Lectures on biometrics technology at Korea Advance Institute of Science and Technology MBA program in Seoul, Korea.
•Started computer coding classes to educate and train K-12 Catawba County School teachers to teach coding skills from K to 12 grades. Over 180 teachers were trained within 6 months' period and hundreds of elementary students are exposed and taught the benefits of computer coding skills.
Associations:
Virginia Military Institute – Member of the Board of Trustees from 2008 to 2016.
Innovation Fund North Carolina – Panel judge to review North Carolina startup companies for NC state venture funding from 2013 to 2016
Innovate Catawba – Member of the Community Leader Team to develop and implement innovative strategies and idea to improve local economic development.
Rotary Club of Catawba – Treasurer from 2013 to 2015.